GROWING FRUITING OLIVE TREES IN FLORIDA SINCE 1989 * * * * * * * * BUY DIRECT FROM THE GROWER! * * * * * * * *

THREE WAYS TO SHOP WITH US:

*At the nursery by appointment (best selection)

*Online or by phone for shipping via UPS (see our Shop page)

*At farmers markets and plant fairs (see our Schedule page)



MISSION STATEMENT:
Our mission is to provide the highest quality olive trees for the home gardener and for other entities such as churches, botanical gardens, restaurants and businesses interested in enhancing their properties with olive trees and to remain available after the sale for problem-solving and guidance.


Why Olive Trees?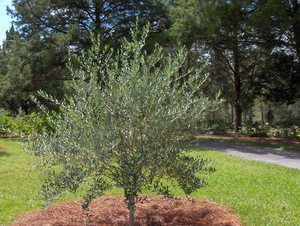 These beautiful, durable trees can add beauty to your garden and value to your home or business property.
Olive trees are your best choice for:
* Beauty
* Durability
* Longevity
* Drought resistance
* Classic cultural association
* Table fruit and oil
* Fine hardwood

Click here to learn more about the planting and care of olive trees.