LANDSCAPE WITH OUR QUALITY OLIVE TREES!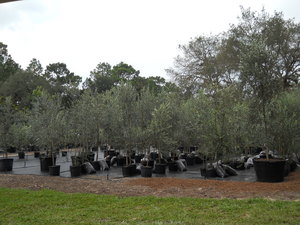 We have an inventory of over 3500 trees
*GROWING OLIVE TREES IN FLORIDA SINCE 1989

*WHOLESALE TO THE PUBLIC


Trees from 3-gallon to 100-gallon. We sell twelve different types of olive trees. See our
Varieities
page.
Prices start at $60. Quantity discounts available.
BIG SALE! Now through Dec 31: Fruit-bearing aged trees $40 and up! Call or email for an appt.
TWO WAYS TO SHOP WITH US:
*At the nursery
by appointment
Contact Us
*
Online
or by phone for shipping via FedEx (see our
Shop
page)

MISSION STATEMENT
Our mission is to provide the highest quality olive trees for landscapes and to remain available after the sale for problem-solving and guidance.
Why Olive Tree Growers?


* Best Quality Trees

* Most Experienced and Knowledgeable Growers

* Biggest Selection of Sizes and Varieties

* Delivery Available in Florida

*Open 7 Days a Week (by appointment)