LANDSCAPE WITH OUR QUALITY OLIVE TREES!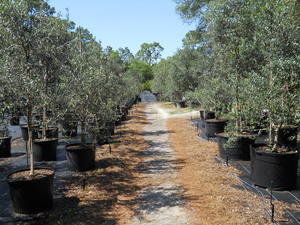 We have an inventory of over 3000 trees
*GROWING OLIVE TREES IN FLORIDA SINCE 1989

*WHOLESALE TO THE PUBLIC


Trees from 3-gallon to 100-gallon
in fruit now.
We sell twelve different types of olive trees. See our
Varieities
page.
Prices start at $65. Quantity discounts available.
MISSION STATEMENT
Our mission is to provide the highest quality olive trees for landscapes and home gardens.
Why Olive Tree Growers?


* Best Quality Trees

* Most Experienced and Knowledgeable Growers

* Biggest Selection of Sizes and Varieties

* Delivery Available

*Open Daily by appointment