LANDSCAPE WITH OUR BIG OLIVE TREES!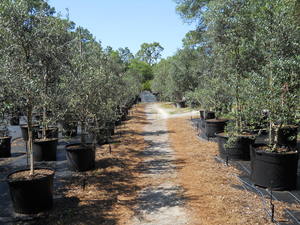 Large inventory of landscape-size olive trees
*GROWING OLIVE TREES IN FLORIDA SINCE 1989

*HIGHEST QUALITY TREES
*SALES TO THE GENERAL PUBLIC
*TEXAS AND LOUISIANA CERTIFIED
*OPEN DAILY BY APPOINTMENT

*DEDICATED DELIVERY AVAILABLE
Fruiting olive trees (Olea europaea) from 45-gallon to 100-gallon.
MISSION STATEMENT
Our mission is to provide the highest quality olive trees for landscapes and home gardens.
Best Quality Trees
* Most Experienced and Knowledgeable Growers

* Biggest Selection of landscape-size trees